Indian head car ornament
From Wikiid
Object is approx 10cm tall, 8cm wide and has a 2.8cm hole in the base. It's very heavy and appears to be made from chrome plated brass.
We believe it's a car hood/bonnet ornament from a car that belonged to my great grandmother in England - probably sometime between 1920 and 1940.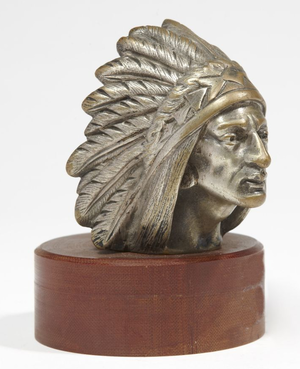 An identical hood ornament was sold in Paris, described as: "Mascotte "Tête d'Indien" H. Briand éditeur à Paris. Bronze argenté. Monture déportée pour fixation d'un thermomètre. H : 8cm" HERE
Briand was a pseudonym of the Art Deco sculptor Marcel Bouraine, working out of the Le Verrier foundry in Paris. And another "Tête d'Indien"; "Estimation €300 - €500  : Sold for €319. They have dated it to the 1920s. Briand also did cockerels, peacocks, snakes, Minerva's head and a cherub riding a pair of horses. It is considerably more valuable than the $35 to $60 that most car mascots sell for. The one in that auction photograph (at right here) is heavily worn - there are many places where the chrome has worn away, where mine is pristine. That presumably puts mine at the higher price point.